ShapeShift is one of the most popular Cryptocurrency exchange platforms. It was created in the year 2013 with the main aim of allowing exchange as well as buying and selling of currency easy. Its popularity is attributed to the fact that the exchange is instant and very simple.
See Our Best Pick for 2020
Many hard-wallets have incorporated it into their systems to ensure the conversion is done on their very platforms. This is very beneficial to such platforms and their users because ShapeShift does not charge any transaction fees. However, the users are charged a small miner-fee for using the conversion services.
ShapeShift allows the exchange of up to 45 different currencies. This includes all the major Cryptocurrencies. Despite a few negative issues with their platform they can be trusted to carry out the different exchange of Cryptocurrencies. In this review, we shall also discuss other important features and services you can get from using their platform.
What Is ShapeShift?
ShapeShift is a platform that was created purposely to allow its users to buy and convert various Cryptocurrencies in a simple way. The ease at which it allows the exchange made it very popular which lead to many other platforms that offered hard-wallets incorporate it into their platforms.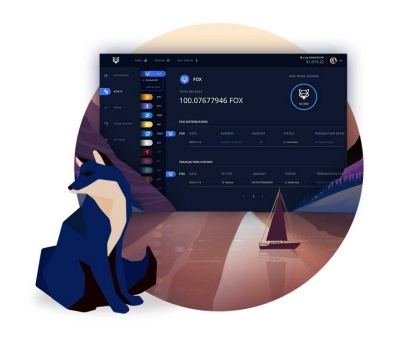 It allows instant exchange of a large number of Cryptocurrencies. It also allows its users to buy and sell at the same time. Their platform accommodates up to 14 different user languages which makes it very easy to use in addition to their user-friendly interface.
Its users can exchange most of the popular Cryptocurrencies like Bitcoin Ethereum, Ethereum Classic among many others to Altcoins like Reddcoin, Potcoin, Golem, and others. However, they do not offer an exchange for Funfair, Metal, Bitcoin Dark, Emercoin, and few others.
During the exchange of 45 different Cryptocurrencies they allow for; only a small miner-fee is charged.
Top Rated Bitcoin Exchange 2020
EXCHANGE

RATING

FEATURES

VISIT


Excellent Reputation

Regulated PlatformVariety of CoinsAvailable via App

66% of retail investors lose money
when trading CFDs with this provider
Who Created ShapeShift?
Erik Tristan Voorhees is the founder of ShapeShift. He is still the current Chief Executive Officer since it was founded back in the year 2013. It is located in Switzerland and it was founded basically to buy, sell, and convert Cryptocurrencies with little to no hassle.
Is ShapeShift Safe?
ShapeShift is not regulated by any bodies, this raises eyebrows for many new users or those who intend to use it. However, the founder had put in mind a feature that ensures the anonymity exchange of Cryptocurrencies. These are among the reasons why it does not allow the use of fiat currency.
ShapeShift has set different mechanisms to ensure its users are safe and this should clear doubts about the same. To begin with they have introduced ID verification. While they strive to remain a decentralized, non-custodial exchange platform, they educate their users on different measures to ensure their safety.
Some of them include two-step verification via email and SMS, creation of alias email with well-encrypted passwords to avoid phishing. They introduced cold wallets to store unused crypto which ensures they are safe unlike when they are in the hot wallet. Finally, they have set mechanisms for bad wallet identification and they conduct the verification on accounts level 2-5 to curb money laundering.
ShapeShift Sign-up Guide
Below is a stepwise guide to help and guide through the sign-up process.
User Guide
Step 1: Sign-Up Process
The signup process is very simple however when you do so, you give up your anonymity but in turn, you get a higher trading limit ($10,000). You are only required to provide your email address and confirm it through a link sent to your email.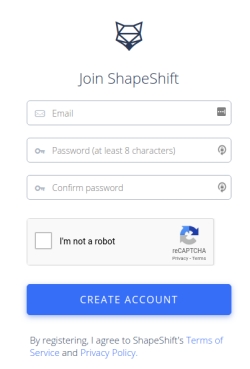 Step 2: Account Verification
After the sign-up through email, you will be required to fill a form with personal data and submit a required identification card for verification during the process.
Step 3: Account Deposit
ShapeShift being a non-custodial exchange, it does not offer an account where user can deposit their funds. They offer specific reusable deposit addresses where users deposit and receive assets.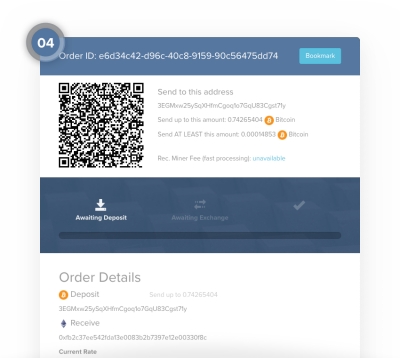 The address expires in 5 minutes if not used. In case the transaction fails your coins are returned to the very address.
Step 4: Buying Cryptocurrencies
Buying of Crypto assets is done in three simple steps. First, you have to select what you want to buy as an output, for example, Bitcoin while what you want to sell as the input, for example, Ethereum.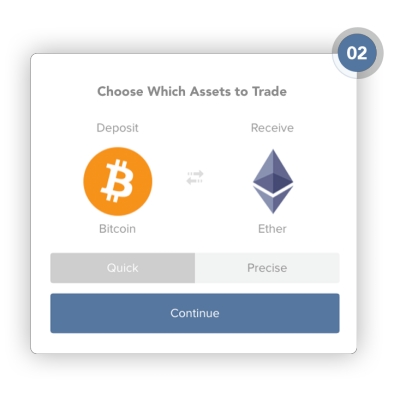 Second, select the destination and a refund address this is where your output and input will be transacted and deposited respectively. Agree on the terms and conditions and click to start the transaction.
Finally, deposit the exact Bitcoin amount into that address and you will receive the Ethereum you are buying.
Step 5: Selling Cryptocurrencies
While selling all you need to change is the input and output like for the above-mentioned example you will just have to change Bitcoin to the input and Ethereum to the output.
In this case, you will have exchanged Ethereum for Bitcoin. The second and third processes remain the same.
The Fees Charged on ShapeShift
ShapeShift charges different miner fees for various currencies exchanged on their platform. In as much as this may seem expensive to most users that is not the case.
The fees, however, are not their transaction cost and they provide a full list of the fees. Just to mention a few some popular ones include:
Bitcoin – 0.0006 BTC;
Bitcoin Cash – 0.0002 BCH;
Ripple – 0.5;
Ethereum – 0.002 ETH;
Ethereum Classic – 0.01 ETC;
Monero – 0.02 XMR.
They do not allow deposit of fiat currency nor its use to purchase Cryptocurrency by its users.
ShapeShift Deposit & Withdrawal Methods
ShapeShift does not have accounts to make withdrawals and deposits, however, it provides a reusable address for the same purpose.
Feature of ShapeShift
Advantages of Joining ShapeShift
Sending and receiving of Cryptocurrencies from ShapeShift to different wallets is easy and instant. They only charge a mining fee for the conversions.
They have a well developed mobile app that is supported by Android and iOS which is very easy and convenient to use.
ShapeShift has a wide portfolio of Cryptocurrencies and their transactions are fast and seamless.
It is set to offer real-time market data for all its users through CoinCap.io.
They allow free trading for all Cryptocurrencies on their platform.
New users get 100 FOX tokens just for verifying their accounts.
How Does ShapeShift Compare To Its Rivals?
Their platform can be accessed in 14 different languages which may not be the case with other platforms.
They have stored a majority of their Cryptocurrencies offline (cold wallets) safe from hackers unlike most of its rivals who have most of their Cryptocurrencies accessible online (hot wallets).
ShapeShift charges different miner fees and this depends on the currency you are exchanging, unlike others that charge a flat rate for different currencies.
They offer an instant exchange of Cryptocurrencies which is not the case with other platforms.
Pros and Cons of ShapeShift
Pros
✅Other than the mining fee they don't charge any other fees for transactions.
✅They offer instant swapping of crypto with others and they have a fast exchange rate.
✅They have real-time trading options.
Cons
❌They are not clear about their minimum number of transactions; you only realize it has reached when the transaction fails.
❌They do not allow the use of Fiat currency in any of the purchases on their platform.
❌It is not regulated which raises many questions.
❌Their full membership and FOX token details remain undisclosed.
FAQs
Is their a difference between cold and hot wallets?
Hot wallets are used to store crypto assets online while cold wallets store assets offline.
Is ShapeShift regulated?
It is not regulated because it was designed to ensure the anonymity of exchanging Cryptocurrencies.
Is there a trade limit on ShapeShift?
They do not have any trade limits in a day however; they have set limits on the transaction amounts.
Is it important to have a cold wallet?
Yes, it protects your crypto assets from online hackers unlike when they are vulnerable online in the hot wallets.
Conclusion
ShapeShift allows its users the freedom to choose between anonymity and registration they have to decide what suits them. Despite that, they offer an instant exchange for both user accounts.
They only charge a small miner fee for the conversions and nothing for the transactions. The platform is user friendly and safe hence, you have little to worry about.
Top Rated Bitcoin Exchange 2020
EXCHANGE

RATING

FEATURES

VISIT


Excellent Reputation

Regulated PlatformVariety of CoinsAvailable via App

66% of retail investors lose money
when trading CFDs with this provider